We go down to the Piute trail to ride ATV's once per year. This year with as much snow as we had gotten we wanted to make sure the trails were not closed so we went for labor day. Good thin we waited one of the trails just opened 4 days before we had gotten there I guess snow doesn't go to fast above 11,000 feet. I have slowly been fishing the lakes in the area and this weekend was a chance for me to tick two more of the list. It started out with a ride in the dark solo to unfamiliar ground not something I would recommend but if I didn't take the chance there would be no fishing this weekend at all. I headed up to the trail I had the choice of two lakes and thought I would tackle the one with tigers first since they are one of my favorite species. Right at sunrise I arrived at the destination Barney lake:
I had high hopes for this lake for about a 1/2 dozen years now they have been throwing tigers and cuts in this lake. I was hoping to find a few sharks in the water. Like most alpine lakes I go to I had the place all to myself love fishing in solitude!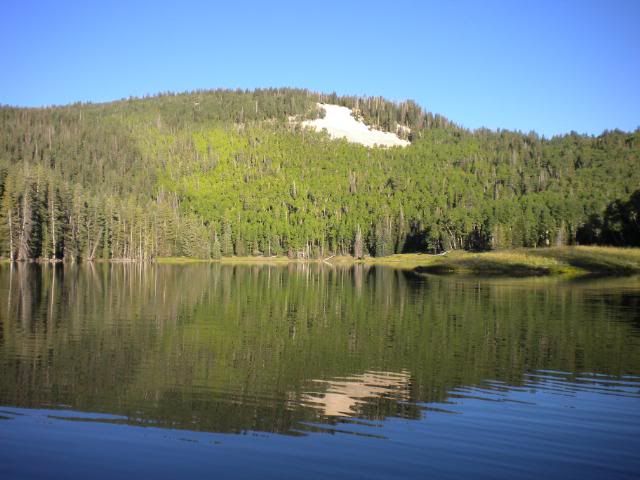 I found the cuts to be hatchery fresh all about 9 inches and with there fins warn down from the hatchery. In my world I call these SNITS (stocked nine inch trout) not something I am excited about fishing for.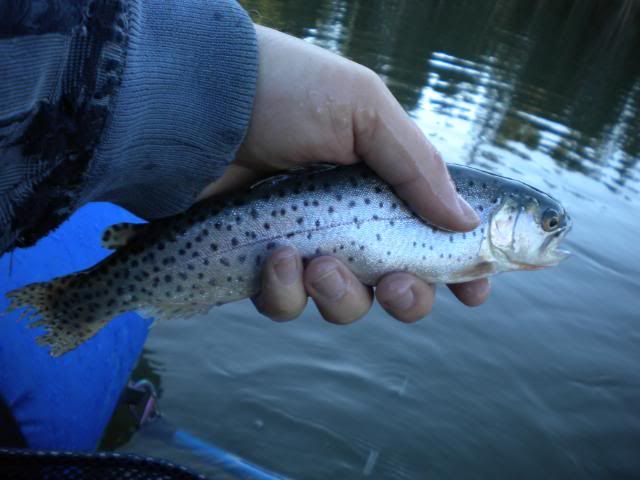 The were eager to take the fly and the jig so it was fun catching about a dozen of these as I made a pass around the lake on my tube. I was really hoping to get into some tigers and hoping to find some with some size. I ended up getting three tigers and they were bigger than the cuts but nothing to exciting I think they ranged from 11 – 17 inches. They need a few more years to grow.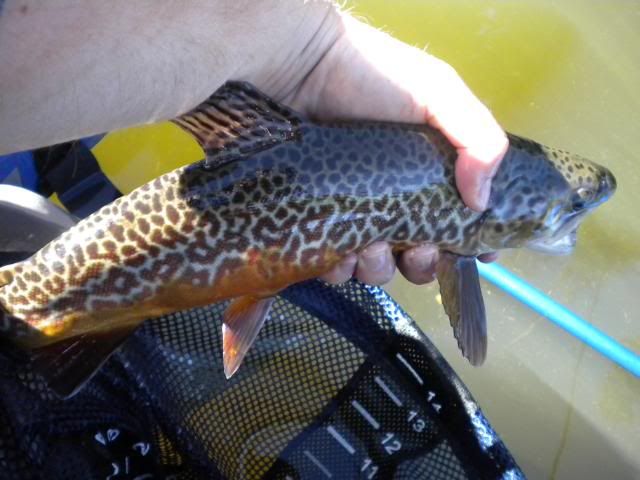 Realizing this was not what I hoped it to be I cut my losses short and headed down to the second lake of the day. It was only 1/2 mile down the road so I used my redneck engineering skills and put them to good use.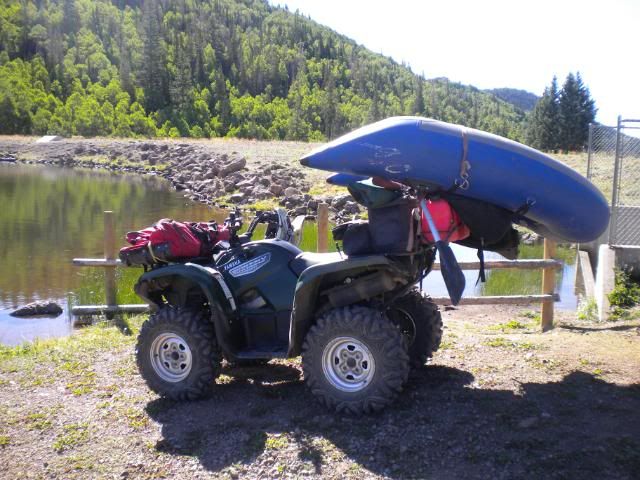 The second lake was much larger than the first and it was supposed to have cuts only in it. This is a brood stock lake for cuts once again I had the place all to myself love not being crowded out even on a holiday weekend!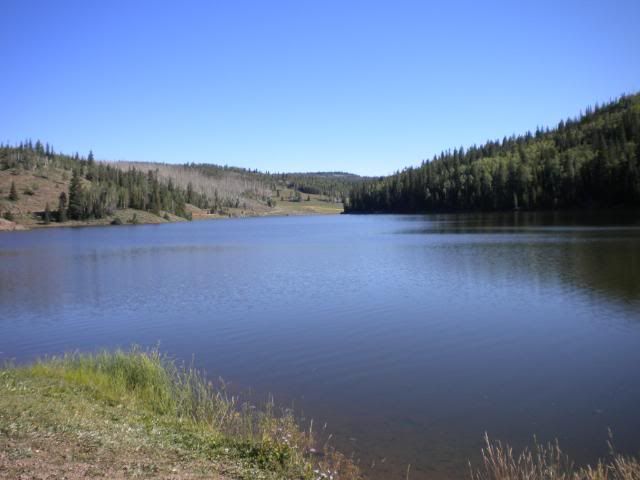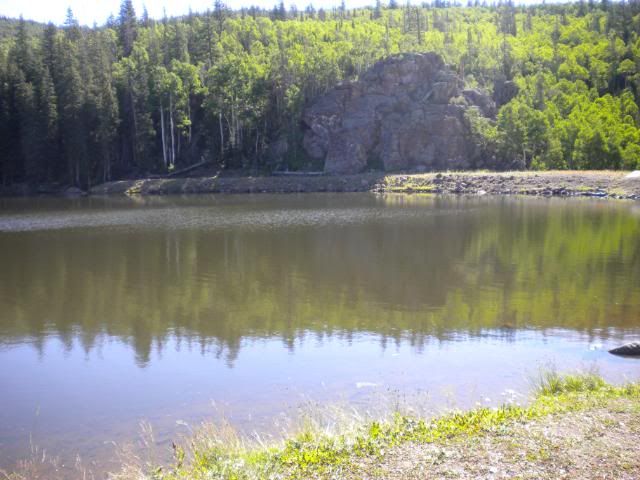 I found a place to launch over by the dam and set off for a kick around the lake. With the first lake being a semi-bust I did not hold high hopes for this lake. Shortly after getting out the battle was on (hard to take bendo pics solo).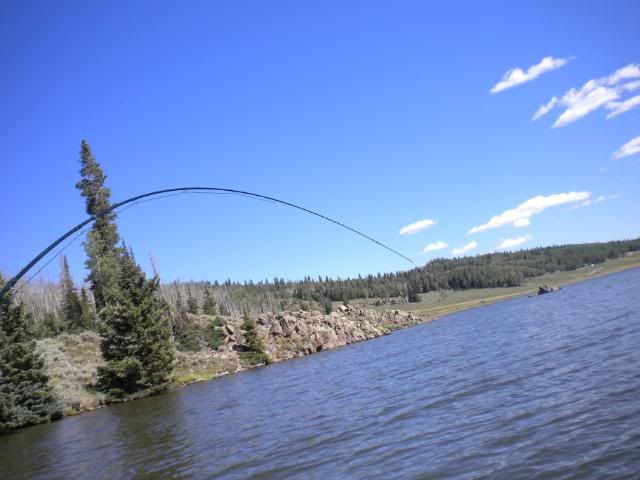 This guy came to the net, I was surprised at not only the fight but the color of these fish!
I went on to get about a dozen of these nice cuts and they stretched my line out. The smallest was about 15 the largest went about 19.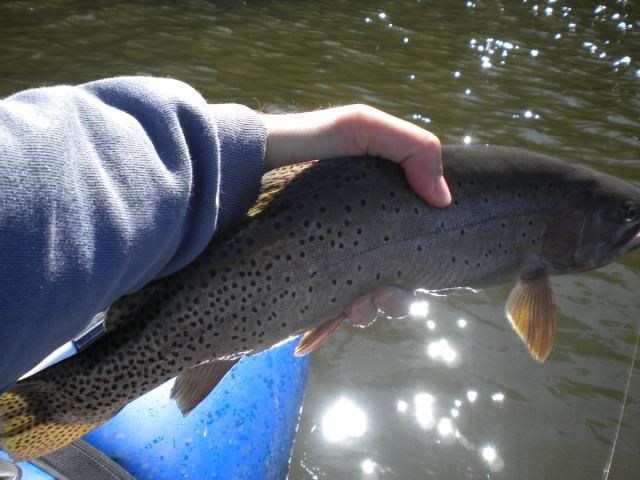 I will be back to visit this lake again in the future one of the better ones in the area I have found for sure. I hope you all had much success over your holiday weekend. I look forward to bringing you some good fall trips in the coming months!