A few months ago a trip was planned by www.azflyandtie.com.  We rented out an entire lake in hopes of incredible dry fly fishing for Arizona's own, the Apache Trout.  This fish, found nowhere else on earth, looks like a cross between a Brown Trout and a Bonneville Cutthroat.  Imagine a Bonneville Cutt as far as markings and size go, but yellow/gold in color similar to a Brown.  Our destination was Hurricane Lake on the White Mountain Apache Reservation.  This lake is managed only for Apache Trout and produced the world record Apache weighing almost six pounds.  I've been excited about this trip for months.
Unfortunately, on May 29th, an enormous forest fire ignited in the beautiful White Mountains.  Due to high winds, hot temps, and a dry winter, this fire has burned for nearly a month.  As of three hours ago this fire had consumed over 500,000 acres of the worlds largest Ponderosa Pine forest making it the largest fire in Arizona history.
http://www.inciweb.org/incident/2262/
I've heard numbers like close to 80% of the Apache Trout restoration literally went up in flames with this fire.  :(
Hurricane Lake was directly effected and the forest service has closed it for at least the next 90 days.  The trip was called off… then rescheduled for Hawley Lake.  I almost canceled, knowing that Hawley is mostly a put and take with a slim chance of a big Brown.  I did some research and found Earl Park was close by, and that it held nice Apaches on occasion.  Game on!
I left work at 3:00 on Friday.  The temperature in my car read 111* as I drove to meet Jason Jones.  The mountains were calling in a big way.  After a three hour drive we arrived to beautiful Hawley Lake.  We found a good spot for the tents, set up camp and got out the camp chairs.  I was short on a few flies so broke out the vise and tied half a dozen midges for the next morning.


My bench for the evening.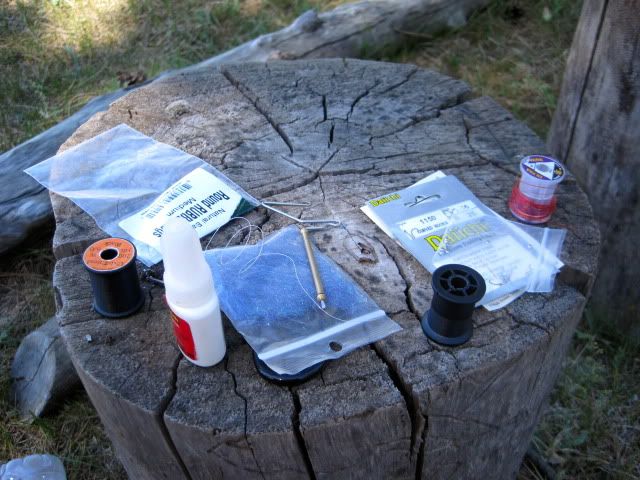 At 4:15 we arose and made the short, 1/2 mile drive to Earl Park.  In the early light we could see several fish rising. We set up the toons and I snapped a quick pic of the pretty little lake.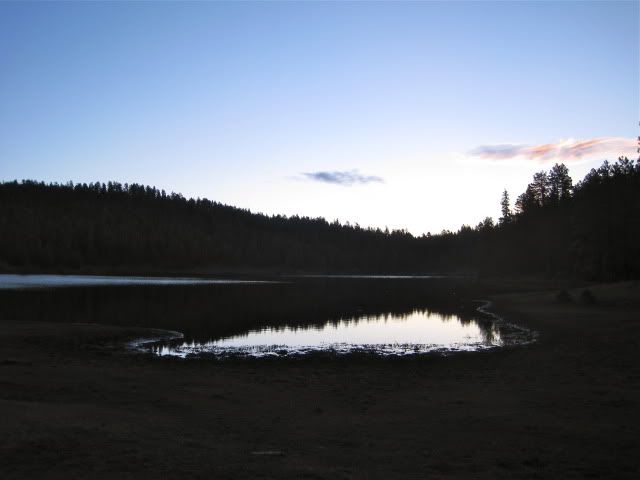 Neither of us had fished it so I spent most of the early morning paddling around its 47 acres.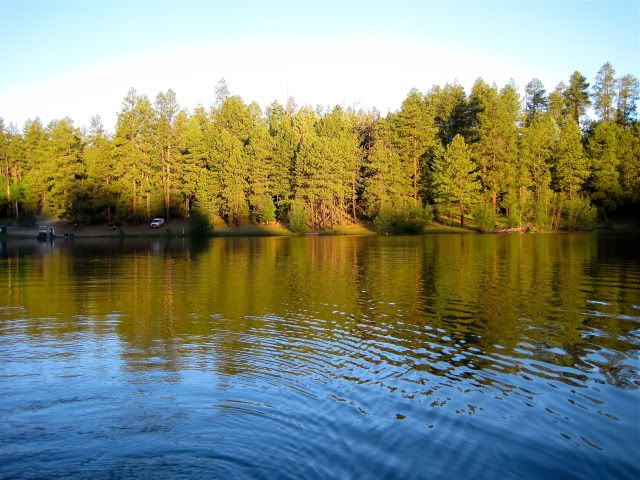 It seemed most of the fish were concentrated near the ramp.  I fished hard on the far side hoping to find some hungry fish but didnt even get a tap.  "Never leave fish to find fish", I kept saying to myself as I paddled back to Jason.  I was almost into position when a big yellow fish slammed my bright orange indicator. haha
I set out of surprise then cast back to the same spot hoping the fish would hit on the fall.  Nothing… I worked the area some more and five casts later my indicator tanked and I was fast to a fish.  The fish went nuts, the 3wt VXP bent deeply and the click pawl reel sang as line flew off of it.  As I got the fish closer I realized it wasn't a Brown but a HUGE Apache Trout.  I netted the fish a minute later then lifted 20″ of Apache from the water!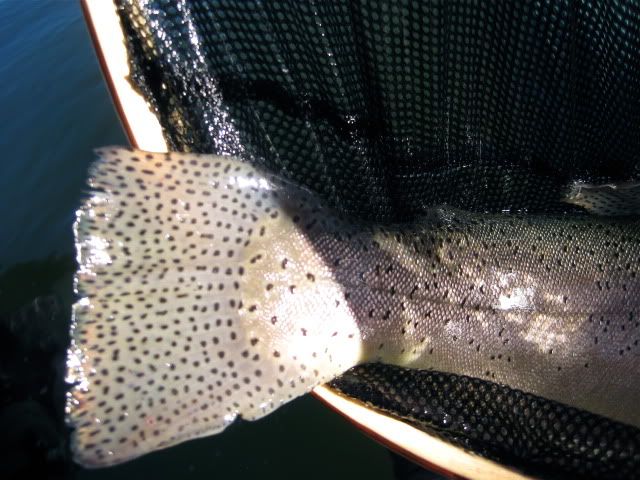 Talk about being spoiled!  The world record is 24″.  Pics were hard by myself but I got a few.

This was my only fish of the morning.  We called it and headed in after that.  As we were pulling the boats out we notice a few nice fish cruising near shore.  Jason made a good cast and the fish took!  He fought it to the net which measured the fish at 18″ but when he took it out of the net it squirmed free and swam off.  I was next and put a blood worm in front of one of the cruisers.  The fish tipped up and sucked the fly in not 10 feet from me.  Oh yeah!!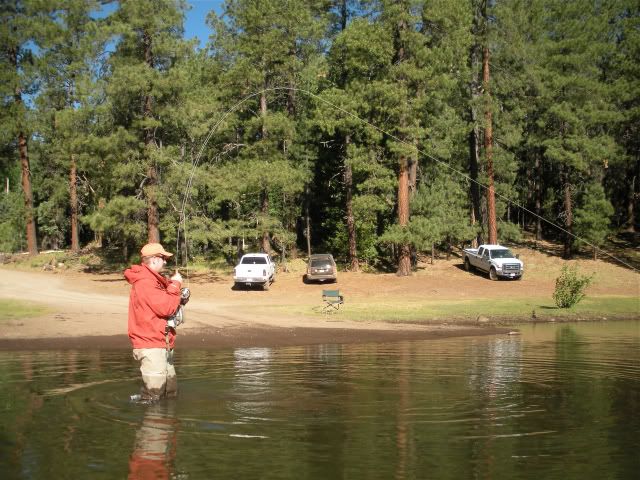 It was a clone of Jasons and much more colored up than my first.

I was in heaven and more than satisfied with the trip already.  We headed back to camp to eat and get ready for the afternoon.  Our afternoon target was a nearby stream with more Apache's.  The stream did not disappoint. Perfect pocket water everywhere.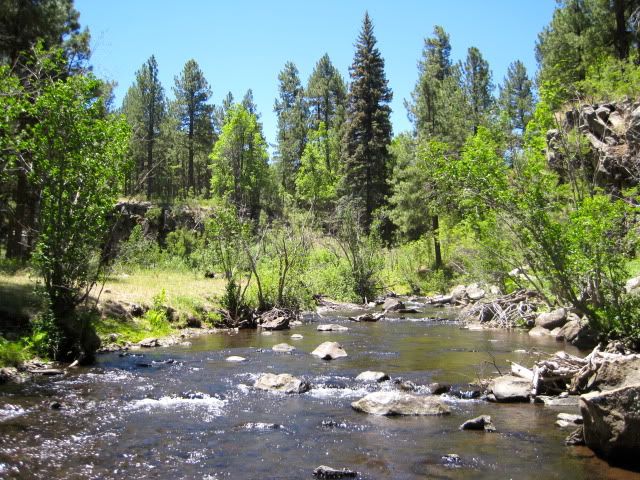 On the first drift an Apache came up and hit the size 10 Stimulator!  I missed the take but put it right back where I had cast.  The fish came back from under the rock and hit it again.  I missed again, threw it back and it came back again! haha  I finally connected and brought the little gem to hand.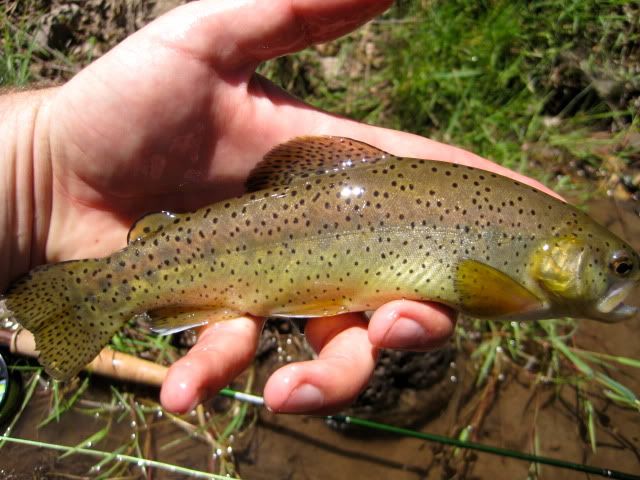 The next two hours were fish after fish.  Most of the fish came on the SOS nymph but several smashed the dry as well.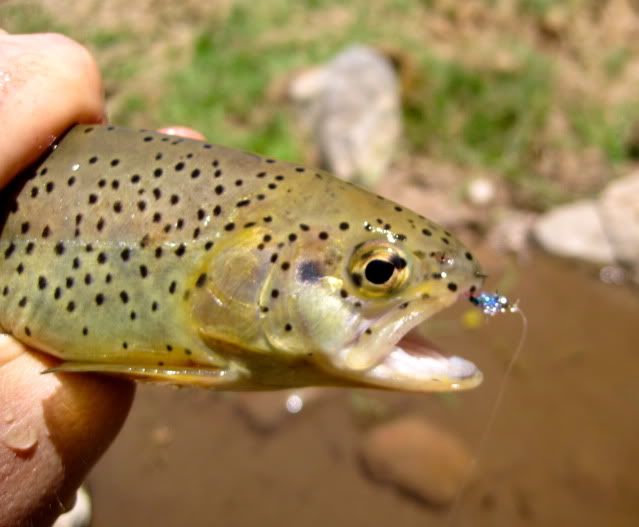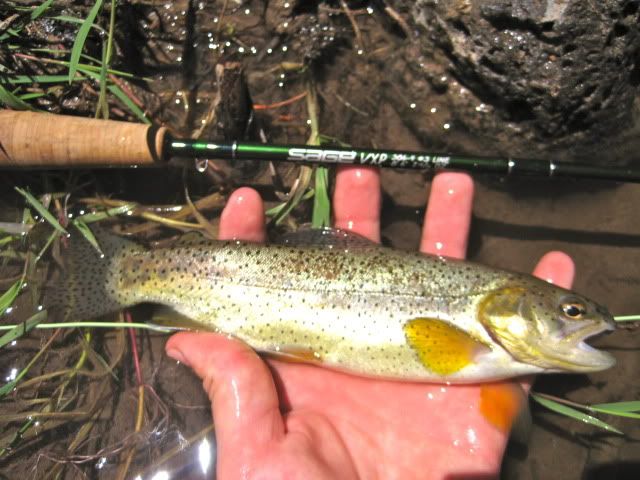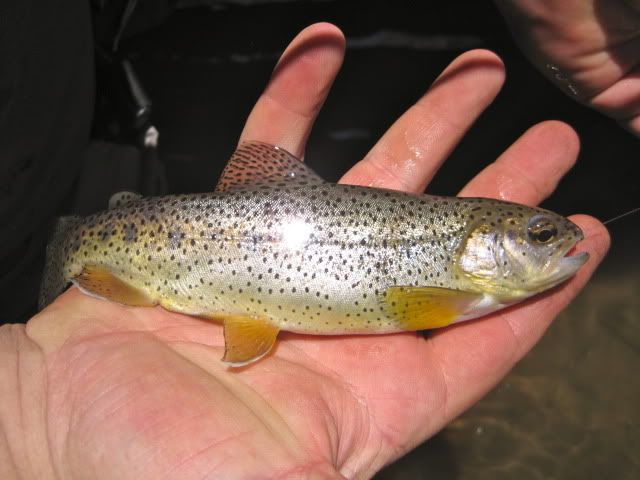 Jason scored the best looking fish of the day.  I was floored by the color.  I'll be back to this stream.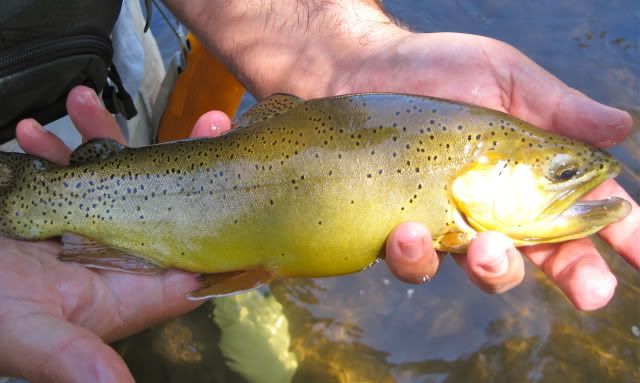 We ran back to the Earl hoping the night bite was on.  I broke off another big Apache on a sulfur dunn then caught


I actually yelled, "they do exist!".  Meaning Brookies in AZ.  There are not too many Brookies South of where I was until WAY past the equator.
Dinner last night was a pot luck.  I ate entirely too much of all of this and lots more I didnt take pics of.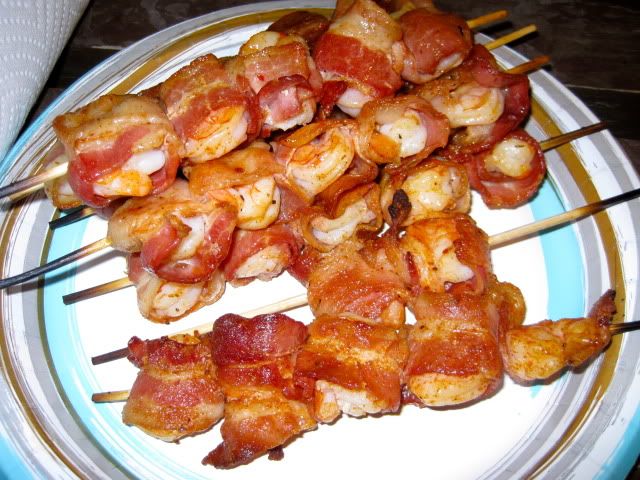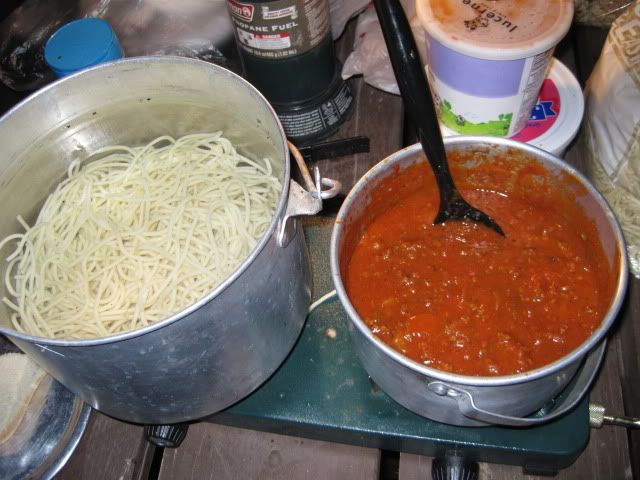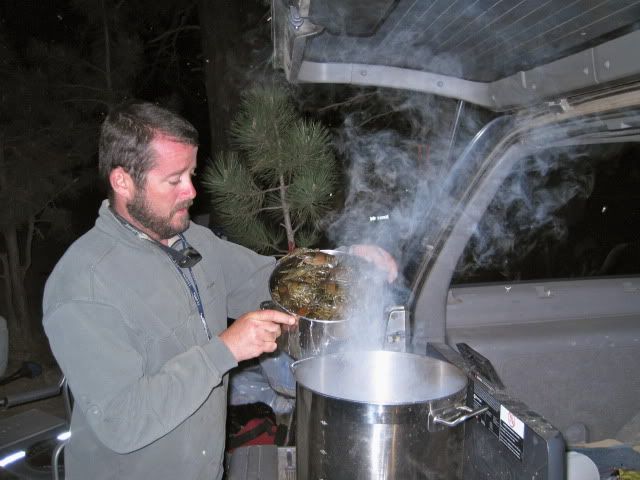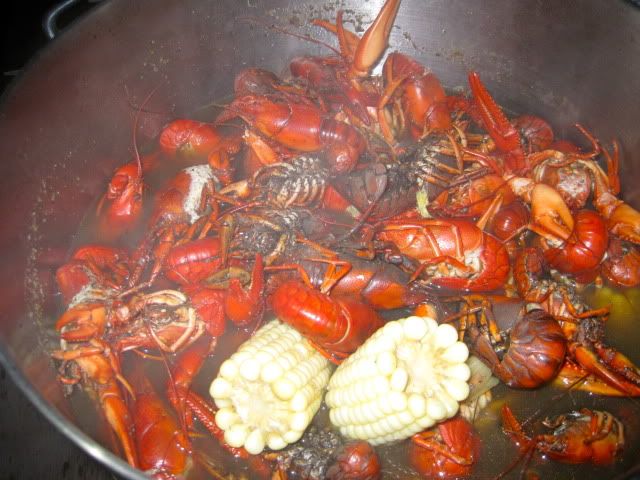 After all that food I two Aleve and crashed after one incredible day.  I never imagined i'd have a day like that my first time in the White Mountains.  I'm so glad I didnt bail out and look forward to many more adventures in Arizonas high country.