Esox Lucius…. Doesn't that just sound mean?? Esox Lucius, or more commonly referred to as Northern Pike, is just that; a mean, hard fighting, predatory fish. I can't think of a more fun fish to chase this close to home with a fly rod. Native to the far North, Pike have found their way into many cool waters further South. Just a few waters in Arizona hold them so I felt lucky to go chase them with Matt Harrison on Saturday.
It was 91* at 3:00 AM when I picked up Matt. After a long week we were ready to get out of the Valley. We headed North towards Flagstaff and watched the temperature drop down to the 50s as we left the freeway surrounded by Pines.

Our target lake was reached before 6:00 AM. Lake Mary offers the best chance of catching numbers of smaller Pike. Recently the Game and Fish caved to the pressure of the trout loving bait chuckers who cried about how the pike had "ruined" their good trout fishing. Game and Fish netted most of the large pike in the State out of Ashurst Lake this Spring. Ashurst was pumping out 20lb fish in recent years. Its beyond me why someone would rather catch finless 10 inch stocker rainbows instead of trophy Pike but thats another story.
Back at Lake Mary we got out of the car and stretched with big smiles on our faces to be breathing cool mountain air and fly fishing for Pike. An Elk was bugling just out of sight in the far trees across the lake. It was just a good morning!

Matt is an incredible tier and had a box ready with LARGE rabbit fur streamers.


Matt picked a good one and got to casting.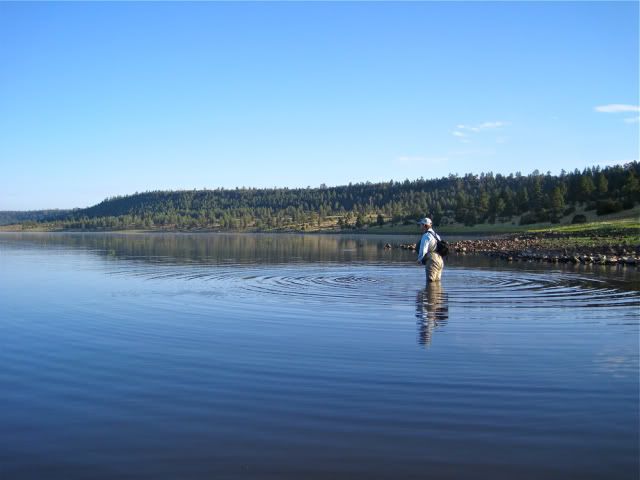 I did the same and within 15 minutes I was fast to a fish. The Pike grabbed the fly about 10 feet from me and absolutely burned the line through the water and through my fingers in an initial run. As the fish was slowing down, sadly, the hook pulled free. I was shaking and excited and immediately got back to casting. What a rush! The fish felt huge but in hindsight was probably around 30″.
20 minutes later I got a second chance and hooked into a smaller, but still feisty Pike. After a short battle the fish came to hand and smiled for a few pictures.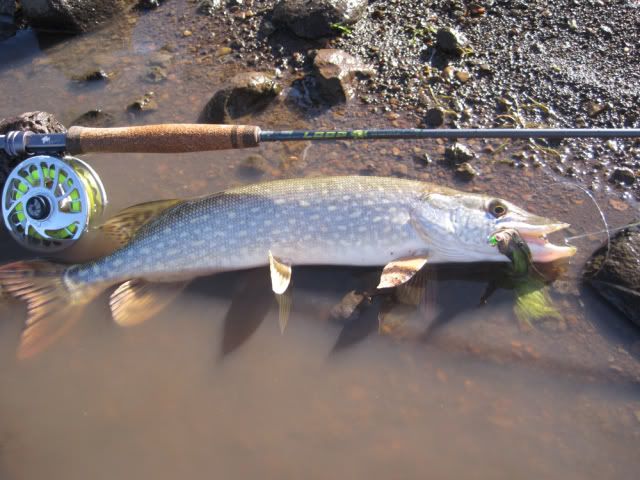 Matt hooked a big fish a half hour later. The fish chased the fast moving streamer to the surface. When Matt pulled the line tight the fish exploded on the surface. We both got a quick look and figured it was probably just over 30″. The short fight sounded like a bowling ball was dropped in the water and the surface was disturbed for quite a while after. Fun fishing.
A few more fish came to hand for both of us over the next hour. Nothing huge but each one unique.

A huge thanks to Matt for providing the flies and great company. Also the stunning pictures. Most of these (all of the good ones) are from behind his lens. Besides a talented fly fisherman and tier he is also an accomplished photographer. I'm sure we'll be back again to get those big ones that got away. The Esox will be waiting, ready to smash the daylights out of anything they can fit in those toothy jaws.